Today I am linking up with Keeley over and Mannland and Mamma M for their Valentine's Day Posts.
1. Favorite Valentine's candy?
Milk Chocolate or Chocolate Truffels or Chocolate Covered Strawberries!!
2. Pink or red? Hot Pink!
3. Will you be doing anything to celebrate today? Not much, Hubby is working. So we are taking kids to the $ movie tonight.
4. Do you put up Valentine's decorations? I did not this year but next year I want to keep a small tree up from Christmas and decorate it through out the year for the different seasons.
5. What does Valentine's Day mean to you? It is one of my favorite holidays. I love hearts and pink and all things romance. February is my favorite month!
6. Would you rather get..flowers, candy, or a night out? All of the above! Plus jewlery, and perfume. I want it all...
7. Sexy lingerie or nothing.at.all? Sexy Lingerie!!! (And a size 4 body to look good in it!)
8. Do you say Valentine's Day or Valentime's Day? Valentine's Day!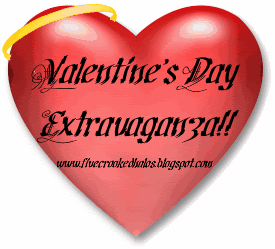 Top 10 Reason's I love my Man!
1. He has a servants heart!
2. He loves me for who I am and all things about me. He does not question why I do things or like things that I do. He does not make fun of me or write things off that I like.
3. He is a wonderful daddy. He does not see keeping the kids as babysitting. He has always changed the diapers, does bath time when it is needed and can fix the girls hair. He is my equal partner.
4. He watches Chick Flicks with me. He will actually try to keep up with the story lines of the shows I watch and asks me questions about them.
5. His heart for the Lord.
6. He makes me laugh! I love to just laugh with him.
7. His cute little rear in a pair of wranglers.
8. His crooked smile.
9. He really knows me and trys to find the perfect gift that fits me and my style. He always has a thought process for the things he buys me. Like my hot pink and gold coach purse. When he gave it to me he pointed out the pockets in the front. He said, "You will always have your Mary Kay cards ready and easy to get to hand out to people." He even saved his lunch money and told me he was eating out everyday at work and bought be a brand new Iphone last year.
10. I love that he likes to hunt and fish but has never abused getting to go and leaving me on the weekends all of the time. He really balances work, family and fun. He will sacrifice his time to be with the kids.