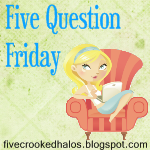 1. Do you sing karaoke? If so, what is your go to song?
YES! I love it. But never have a place to go or anyone to go with me. I love to sing old Patsy Cline music.
2. What is your favorite coffee drink? Starbucks White Chocolate Mocha with a shot of caramel. So not on my diets but yummy!
3. If you could choose your own name, what would it be? I love my name. Nocona. When I was a kid I wanted to change my name because I could never find stickers or anything with my name on it. Now I just have to go to a western store where they sell the boots. If I was going to change my name it would be Brighton which is what I named my daughter. I love her name.
4. Were you ever bullied? Yes. By a big guy in 5th grade and my mom had to go to school and take care of it.
5. How often do you eat fast food? Not much anymore. Since I have been on this weightloss journey I have had to cut it out. It has saved us soo much money since we did that and it has helped retrain my kids. They were thinking every time we ran errands we had to stop and get them something it eat. It has been hard though. My husband is an assistant GM for Whataburger and we get everything 50% off. (For those of you outside of Texas that is an awesome Texas bases burger joint. Those of you that don't have one are missing out!)
Click on the button above to get in on the game.